A singing telegram or comedy telegram is the perfect solution to honor someone on their special day.  When time is tight but you still want to do it right, hire Joy Set Entertainment to do a customized telegram.   Your choice of performers will come and do a short family friendly comedy bit and have fun with your honoree.   They might have a song sung for them and even be given a big balloon hat or other special balloon creation so that everyone will know that it is their special day.   We serve the following areas:   
Greenville, SC  (Mauldin, Simpsonville, Greenville, Greer, Traveler's Rest)

Anderson, SC (extra mileage may be added)

Laurens, SC (extra mileage may be added)

Spartanburg, SC (exta mileage may be added)
Please choose from the following characters:  
Nerd

Clown

Banana ("because you have appeal")

Hot Dog

Elf

Jester

Other possibilities including our costumed characters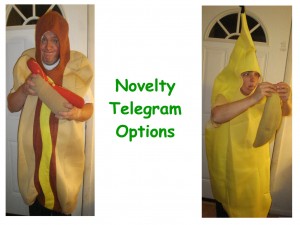 Help us make your singing telegram more fun.  Think about the following questions 
Does your friend have any nicknames?

Any recent "embarassing" stories that you are safe to share?

What are their hobbies / interests?

Are they more likely to make the fun, join in the fun, or sit back?

Favorite songs?  books?  movies?

What is your message ("Happy birthday from Sue."  "Congratulations on your retirement")
We look forward to helping you with your singing telegram needs soon.  We require contact information for someone who will be at the function with your recepient (such as a friend or sibling) so that we can verify delivery information and better coordinate arrival times.  Call us at (864) 299 1949.