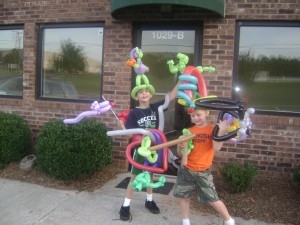 Have balloons, will travel!  
Joy Set Entertainment offers balloon classes.  We have taught brand new people how to start making their own balloon animals and have taught those who have been twisting for years.  We would love to send one of our award winning entertainers to train your group.  All you need is a minimum of eight people and a location and we will take care of the rest.
Current classes include:
Introduction to Basic Balloon Bending:  A class for the beginner.  How do I blow these things up?  How do I tie them?  Now what?  All this will be answered and more in this fun and interactive class.  Balloons and pumps provided.
The Show Must Go On  It is not enough to be able to make balloon animals.  You have to be entertaining.  You will learn principles to apply when you are performing with balloons.
Interactive Balloons:  These balloon sculptures all DO something.  Some roll around, some shoot, some make noise.  But they are all interactive.
Their is a low cost per student for each class.  Travel fees  added for classes outside of a sixty mile radius.