Holidays are very busy for this family of entertainers, you still have to take time out to acknowledge the love of your life. I love you Booger Bear.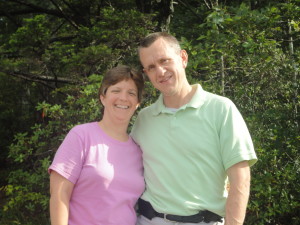 First of all, you need to know, I proposed to my wife, Paula, on April 1st.  It was a real ring and a real proposal, but not many people believed that it was not some elaborate April Fool's prank.  Fortunately, my timely proposal did not frighten off my Paula.  Nor did it phase her when just a few months after we were married I informed her that my life's calling was to be a clown.  In fact, she decided to join me.  That was over 18 years ago, and now in addition to clowns, our business also offers magicians, face painters, balloon artists,  jugglers, stilt walkers, jugglers, and all kinds of other family friendly entertainers in Greenville, Spartanburg, Anderson, and other areas of South Carolina.
We celebrated our first Valentine's Day at Taco Bell.  We already had an event scheduled that night.  So rather than trying to fight the crowds and wait a long time for our meal, we decided to "run for the border."  We pretty much had the whole restaurant to ourselves.  I brought a tablecloth to make our booth a little fancier and then adorned it with an electric candle.  I even brought along a music system to play romantic tunes.  I vividly remember the entire staff at Taco Bell staring at us as we whispered sweet nothings to each other between bites of our Burrito Supreme.
I am a very blessed man to have such a wonderful and supportive wife.  Paula helps keep Joy Set Entertainment running smoothly and is an integral part of Joy Set being such a successful and well respected business in the Upstate of SC.  On holidays, we both may be out doing singing telegrams, painting faces, making balloon dogs, or literally clowning around.  Yet we always find a way to still make the times special for us and our family.  A great big I LOVE YOU to Paula.  Thanks for being my girl, my wife, and my best friend.
---