Balloon Decor Class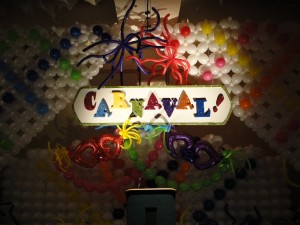 FLOAT is coming!  FLOAT is coming!  "What is FLOAT?"  you may ask.  It is the best convention for balloon decorators.  Of course I will admit to being just a wee bit biased since I have been on the staff of FLOAT since it started.   FLOAT is aimed at advanced balloon decorators.  The classes are fun and informative.  They have helped me to truly revolutionize my business as one of the few balloon decorators AND balloon twisters in Greenville, SC.  What I truly enjoy about FLOAT is the balance between class time and fun time.  At past conventions, FLOAT has spent evenings at an indoor water park, had a root beer float party, and the ever popular karaoke night.
FLOAT is coming to St. Louis, Missouri on January 27 – 31, 2013.  And this year, FLOAT is "tag teaming" with the best balloon twister convention, Twist and Shout.  The twister convention runs in the same location January 30 – February 4.  Awesome!  Looks like we get a few crossover days.  As Hannah Montana would say, "you get the best of both worlds."  So, I invite all the talented balloon decorators out there that want to learn some incredible new designs and tecniques to come to Missouri for FLOAT. 
As of this writing, there are 8 discounted spots to FLOAT left.  After those spots are claimed, the regular rate goes into effect.    Save some money and register today.
---